Osmotheque - the world's largest scent archive
The international perfume archive - Osmotheque is located in Versailles, where they carefully preserve the famous perfumes of the past and present. But do you know who offered to create the Osmotheque and who were the first perfumers that took part in perfume restoration and evaluation? I discovered a photograph from a few decades ago signed "Les 10 Fondateurs de l'Osmotheque en 1990" (Ten Founders of the Osmotheque in 1990") and I decided to learn more about these people.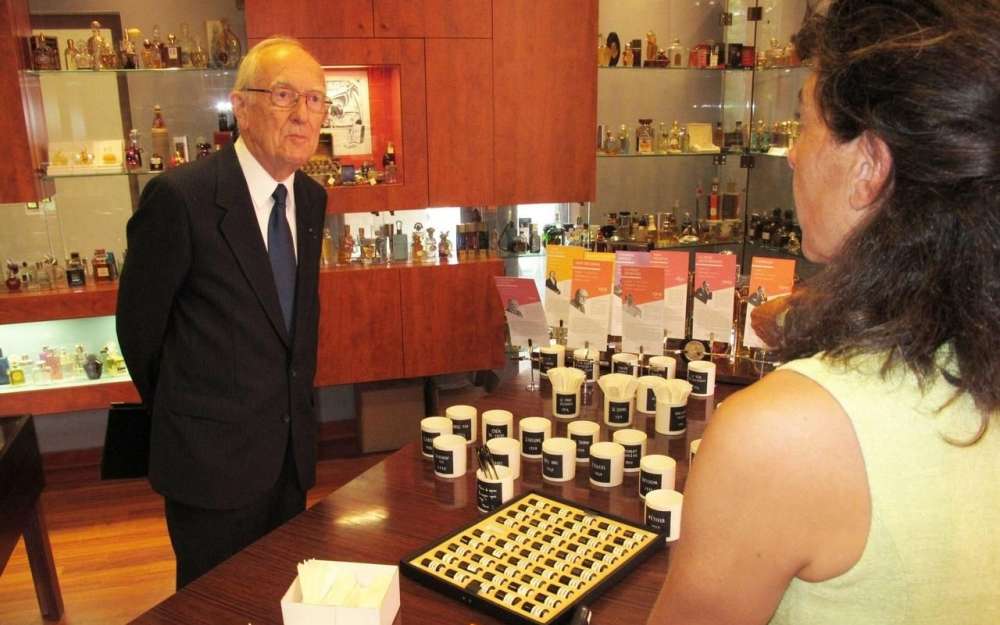 Jean Kerleo meet people before giving lecture in Osmotheque (C) Le Parisienne
I found out that this idea was proposed to the Society of French Perfumers in 1976 by Jean Kerleo, who at that time was the in-house Jean Patou perfumer. He was charged with the mission of restoring the discontinued Jean Patou fragrances for the American market, and he knew from his own experience that the history of perfumery is crucial for every perfumer. History should be conserved not just in the names and the beautiful bottles - but as perfume formulas and ready-to-smell fragrances, as fresh as on the first launch day.
He suggested to recreate the most classic perfumes important to perfumery history, according to original formulas and with attraction of the best perfumers and perfume houses of the world. That's how the expert committee was formed, which included nine perfumers: Jean Kerleo, Jean-Francois Blayn, Raymond Chaillan, Guy Robert, Yuri Gutsatz, Raymond Pouliquen, Jean-Claude Ellena, Jeannine Mongin, and Henri Sebag.
The photo from 1990. Only Yuri Gutsatz is identified.
So are they all depicted in the photo? Yes, but there were nine perfumers in the technical committee, and there are ten people in the photo... Let's return to the photo a little later.
After Jean Kerleo finished the recreation of the Ma Collection Jean Patou in 1984, he was trusted with some older formulas of other French brands: Volnay, Coty, F. Millot, to name a few. Crepe de Chine F. Millot was recreated in 1987 and after that the Osmotheque project received support at many official levels, and most importantly they found a space in the ISIPCA buildings so that students-perfumers could study the history and evolution of perfume via the great fragrances of the past, as well as assist in the Osmotheque processes.
The official date of the Osmotheque's founding is April 26, 1990, and then there were about 400 perfumes in the collection, a part of which was recreated by experts, and others were donated to the Osmotheque by Chanel, Guerlain, and Lanvin perfumers, amongst others. Today, after almost 30 years, there are already more than 3000 perfumes in the archive which is headed by the new president, Patricia de Nicolai. The Osmotheque still invites guests to its thematic lectures, in which experienced perfumers illustrate the history of perfumery and raw materials with scents of the past. The Osmotheque has branches in New York and Grasse, where lectures are given by Christophe Laudamiel and Stephanie Bakouche.
To clear things up, I've sent the photo to the Osmotheque. The responsible manager Anne-Cecile Pouant asked Jean Kerleo to recall who was captured in this photo. And it turns out that the photo caption is inaccurate!
These are not all founders. For example, the famous perfumer Guy Robert is not pictured. He is the creator of hits like Madame Rochas, Calèche d'Hermès, Equipage d'Hermès, Gucci №1, Dioressence Christian Dior, Amouage Gold, and author of the book Les Sens Du Parfum. But instead you can see two other perfumers who were not members of the SFP technical committee - their names are Philippe Lepage and Andre Gerber.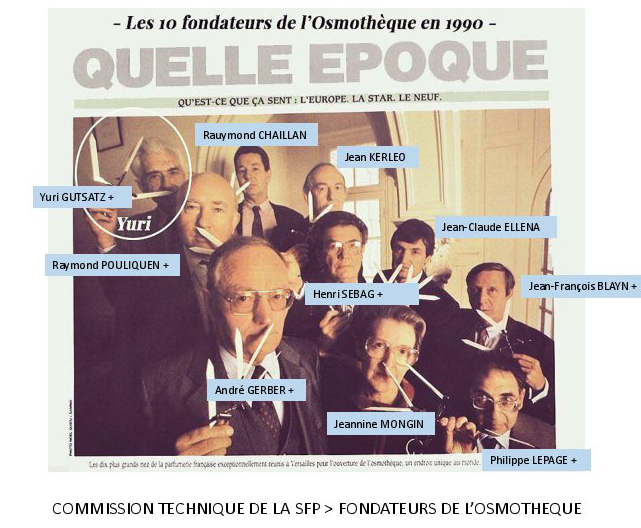 The perfumer Jean Kerleo (top right) was a laureate of Prix de Parfumeurs de France (1965) and the creator of 1000 Jean Patou, Eau de Patou, Sublime de Jean Patou, Lacoste Original, Lacoste Fragrances Booster, Yohji Yohji Yamamoto and others.
The perfumer Raymonde Chaillan (top center) was the creator and co-author of Opium Yves Saint-Laurent, YSL Pour Homme, Anais Anais Cacharel, Parfum d'Hermes, Givenchy III, Signoricci 2 Nina Ricci, Boucheron Pour Homme and many-many others.
The perfumer Yury Gutsatz (top left) started his career at Parfums de Mury, then moved to Roure Bertrand Dupontwhere he worked for a long time as an "unknown perfumer" (his only known perfume is Chasse Gardée Carven), and then founded the very first niche brand Le Jardin Retrouvé, where he was in-house perfumer and owner.
The perfumer Jeannine Mongin (bottom center) worked in Roure Bertrand Dupont (now Givaudan) and createdFashion de Léonard, Thema Smalto, Volant Jade, and Eau du Soir de Sisley. Her lectures in the Osmotheque were devoted to the history of perfume houses, like Lanvin, Chanel, Alphonse Rallet, L.T. Piver, Coty and others.
The perfumer Raymonde Pouliquen (middle left) started his career in Helena Rubinstein laboratories, was then in-house perfumer of Molyneux and Lubin (where he was the creator of the original Idole de Lubin). Then he worked at Chanel's and Bourjois' laboratories, and finished his career at Takasago.
The perfumer Jean-Claude Ellena (middle right) is known to Fragrantica readers for his numerous hits such as Miss Arpels, First de Van Cleef-Arpels, Eau de Campagne de Sisley, In Love Again YSL, Déclaration de Cartier, Terre d'Hermès, Voyage d'Hermès, Jour d'Hermès, Kelly Calèche Hermès etc. He's also a great writer.
The perfumer Jean-François Blayn (bottom right) was the President of the Osmotheque for the first three years. He was a student of Edmond Roudnitska and, as a teacher at ISIPCA, taught many modern perfumers (for example, Karine Chevallier). He is co-author of several books on perfumery: Questions de Parfumerie (1988), Dictionnaire du langage parfumé (1990).
About the perfumer Henri Sebag (middle center), I managed to find only that he had worked in the IFF company for a long time and prepared the book Formulation Cosmetique for publication.
The perfumer Andre Gerber (bottom left) spent his entire career at Roure-Bertrand Dupont as a chemist and then as director of personnel. He is part of the history of the Osmotheque together with Philippe Lepage (bottom right), despite the fact that they were not members of the technical commission. They became the perfumers who gave the very first Osmotheque fragrant lecture on the history of perfumery, accompanying their speech with restored fragrances.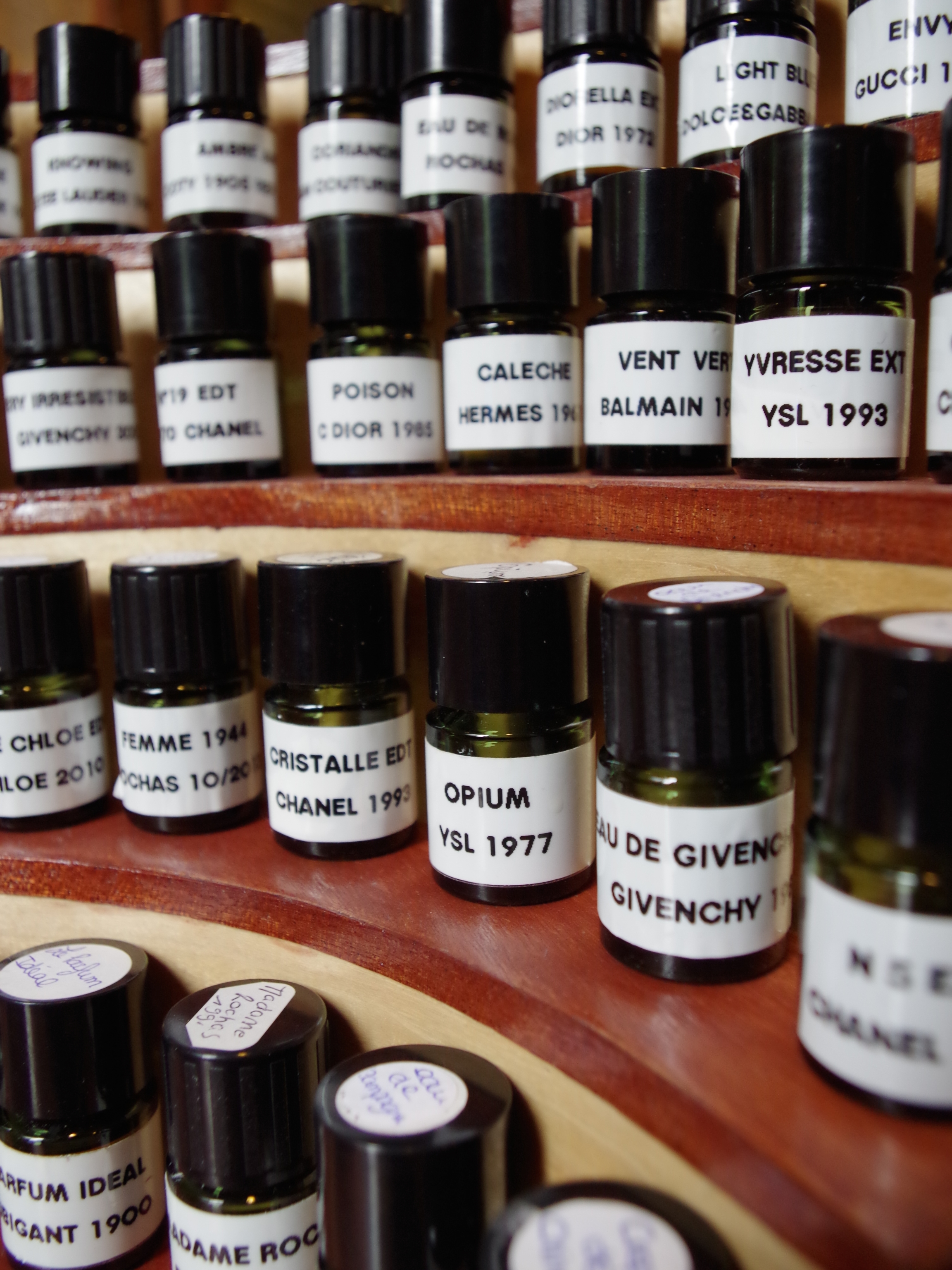 So, that's the history of the Osmotheque foundation, inspired by an uncaptioned picture. Now all of this has put me in the mood to smell some reconstituted perfumes from the Osmotheque!
PS. After the article was published, Michel Gutzatz, the son of Yuri Gutzatz, wrote to me and kindly provided a photo of the page of the brochure published by Osmotheque, with portraits of The Technical Committee of the Society of French Perfumers. I decided to bring it here as well.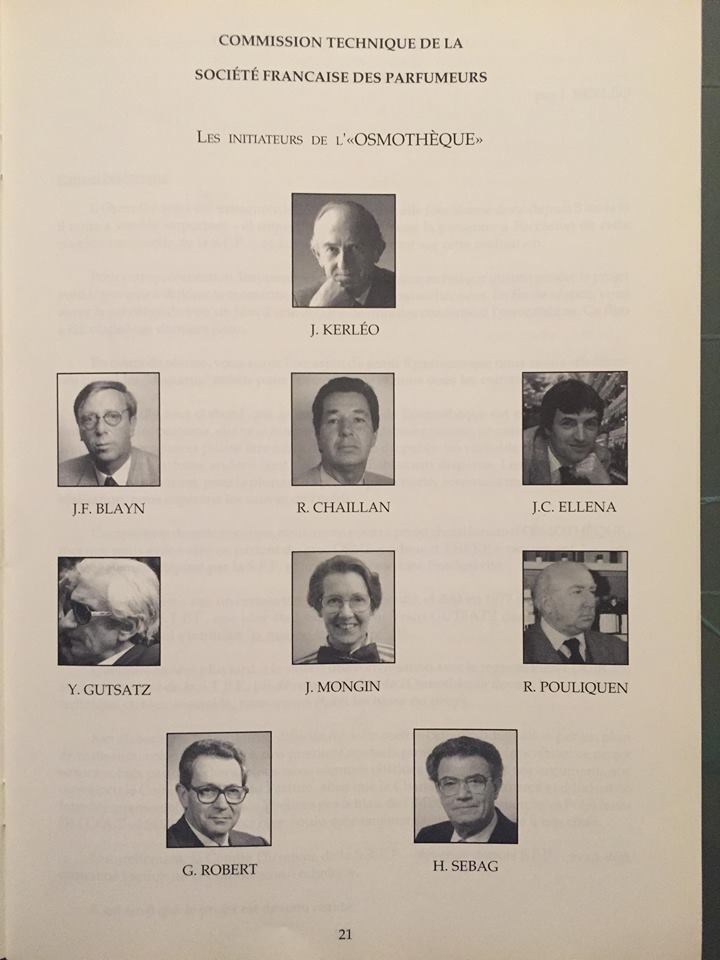 Excerpt from Fragrantica
Written by:
Sergey Borisov studied Physics at Krasnoyarsk University. He's been known in the Internet perfume world under the nickname moon_fish for more than 15 years. His texts about perfumes have been published in Russian print and online publications such as GQ, Vogue, Cosmopolitan, The Rake, Glamour, and other magazines. He loves oud oils, as well as vintage perfumes, and notes of leather, vetiver, neroli, and orris.