Perfumery and Death - Macabre Games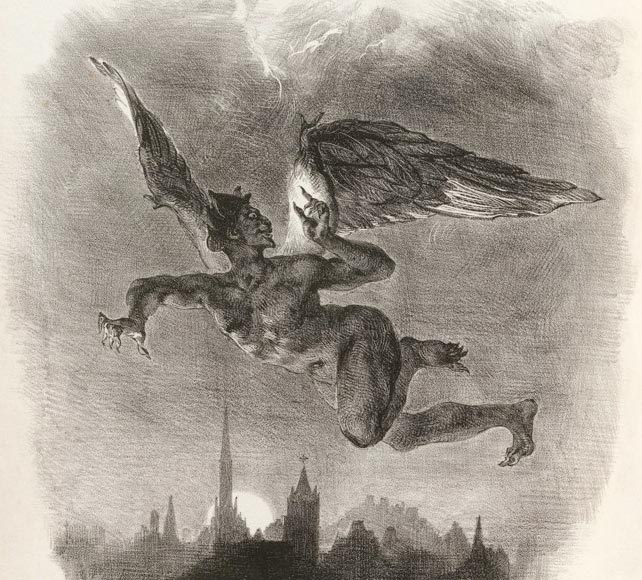 Mephisto, (1828) Eugène Delacroix

If there is a topic that seems to be utterly incompatible with perfumery it is that of death. Death is irreversible, hopeless, scary, and disgusting. A nightmare that one better not think about. Or it is a mystery people have a rather vague idea about, especially when it comes to the physical processes that start just minutes after one dies.
Modern people in normal circumstances see death so rarely that they occasionally want to come a little closer to it. Certainly not in real life, but in literature, art or film… The same counts for the world of perfumery. Even though you might think it's impossible to find anything less inspiring for a perfumer than a dead body, some perfume houses do like to play around with the macabre theme.
I am not talking about skull-shaped flacons or boxes covered in death symbols here - those just seem like a flirty type of debauchery to me, especially since the fragrances inside those flacons are typically banal and don't even "hint" at anything dark.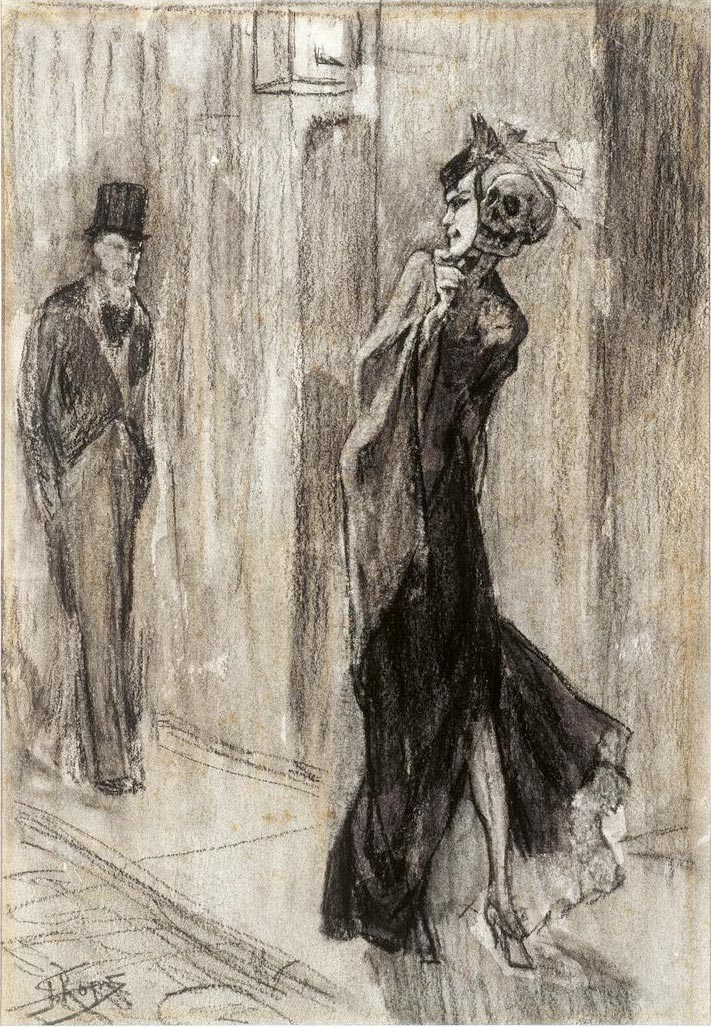 Parodie humaine, (~1878-1881) Felicien Rops

In order for a customer in Europe or the U.S. "to get the hint," the perfume must smell like lilies or chrysanthemums. Those are the flowers most often brought to funerals, so their fragrance is associated with mourning and burial, much like we Russians also associate funerals with the scent of frankincense used in churches. Beautiful incense fragrances are often vehemently rejected in my country, because they "smell like church, funerals, dead people, they are simply depressing!"
However, in order to make a fragrance really macabre, the name given to a perfume must be such that any normal customer would recoil in horror, while the necromancy aficionados would instead get interested in getting their hands on the bottle in question. There are not as many fans of necromancy as there are aficionados of the color pink, vanilla, blue jeans or fresh fragrances, but there are enough in order to make a fragrance sell.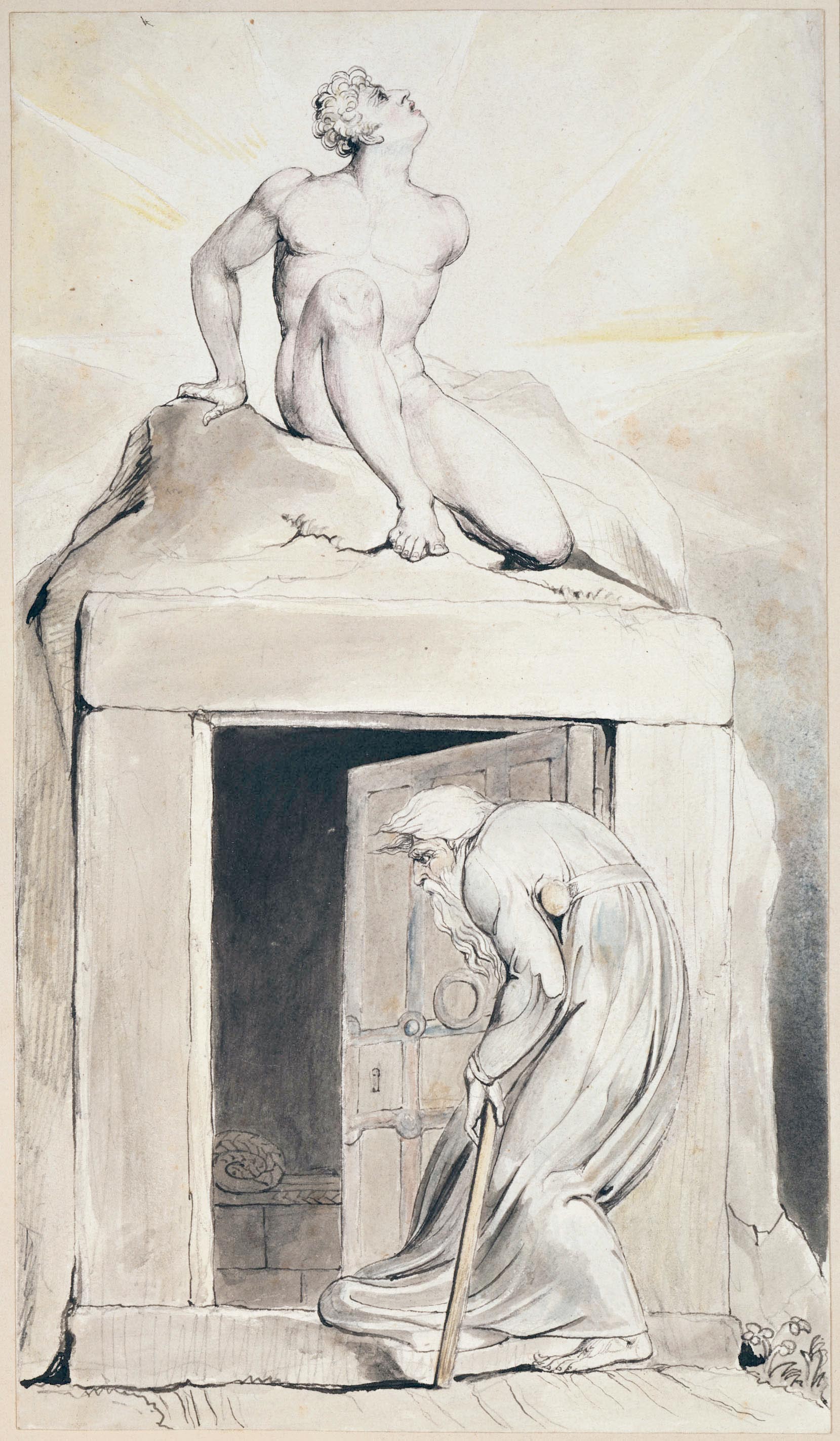 Death's Door, (1805)
The mortal body enters the tomb, the ever-youthful spiritual body rises above

Probably the most shocking fragrance name given to a fragrance on the topic in question is Lush's Death and Decay. The perfume creators say that they tried to "capture the thin line between beauty and the inevitable decay," but the name still repulses and scares off many (I know that in Russia, certain shoppers were even scared to try and test the fragrance. And that's a pity).
When this thick sweet fragrance of lilies with balsamic notes, candy-sweet ylang-ylang, and delicate powdery violets develops on the skin, it becomes fresher by the minute. Once the lily is joined by jasmine and lily-of-the-valley, it is a lively, delicate floral bouquet. If it were not for the name, there would be no associations with death whatsoever, but one can fantasize further and imagine a white lily in a hand of a pale deceased beauty, or violets strewn over stark white grave-clothes... In reality, Death and Decay is simply a beautiful and long-lasting floral fragrance with a predominant note of lily and a sonorous lily-of-the-valley. There is no decay there. Or death...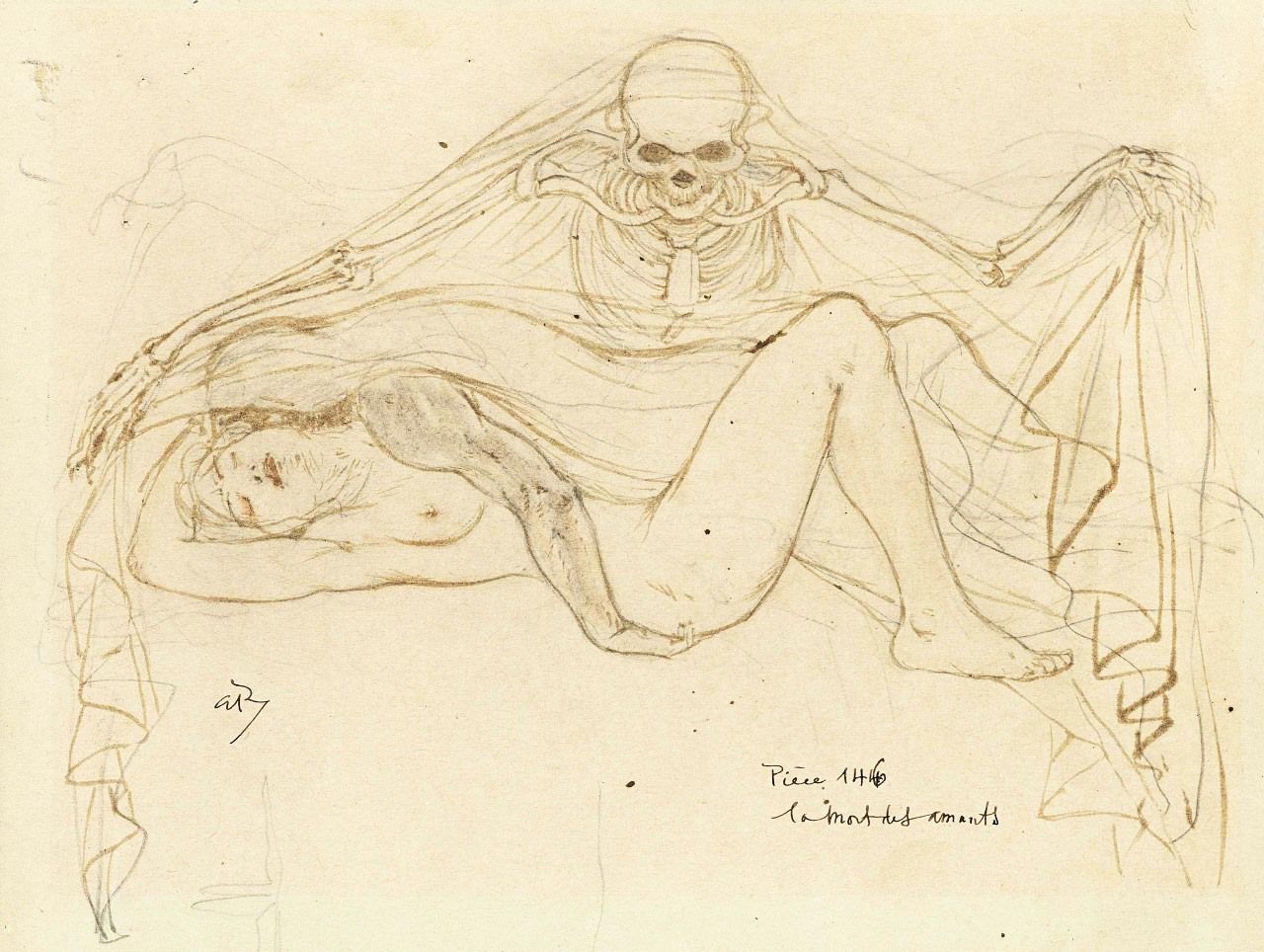 The Death of the Lovers, (1889) for the 1901 edition of Charles Baudelaire's
Les Fleurs du Mal, Armand Rassenfosse

Charogne by Etat Libre d'Orange is translated into English as "Carcass." I liked the drawing on the flacon of the first edition: a bluish-black, gangrenous rose that is oozing with blood. The name is taken from "The Flowers of Evil" collection of poems by Charles Baudelaire. In the eponymous poem, the poet predicts the inevitable decay of his lover, demonstrating knowledge in depicting the former, yet promising his beloved eternal life thanks to his poetry:
 
Yes! thus will you be, queen of the Graces,
After the last sacraments,
When you go beneath grass and luxuriant flowers, 
To molder among the bones of the dead.
Then, O my beauty! say to the worms who will
Devour you with kisses,
That I have kept the form and the divine essence 
Of my decomposed love! (Translated by William Aggeler)

I adore Baudelaire, so I expected a lot from Etat Libre d`Orange. At the moment when they launched Charogne, I was already enjoying their Jasmin et Cigarette, Vraie Blonde, and Vierges et Toreros, and I was able to appreciate their daring Secretions Magnifiques, so I supposed that if those perfumery hooligans said "carcass" they meant it. Not that I wanted to wear a carcass-smelling perfume... But I wanted to see how the topic could be approached and carried out in perfumery — I admit that I was really curious.
And yet they deceived us. They did not dare to go that far. Charogne has got nothing Gothic, macabre, dark or scary — even though all of that is possible in perfumery.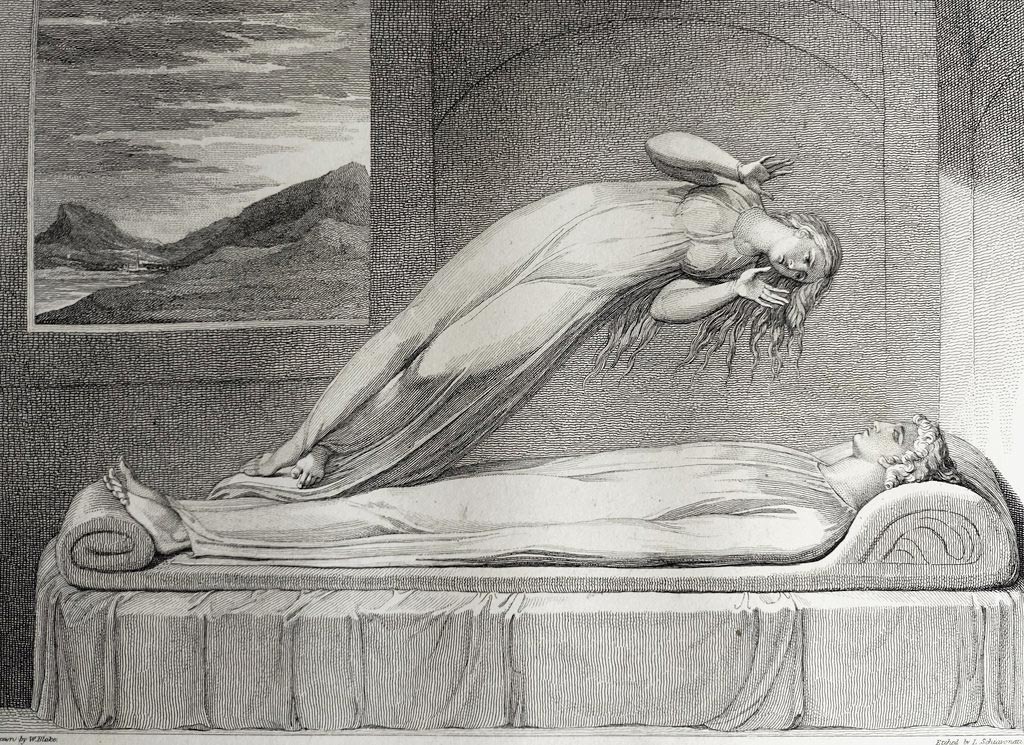 The Soul Hovering Over the Body, (1808)
Illustration to Robert Blair's The Grave

Charogne smells like white lily, sweet with a vanilla accord that the natural lily also possesses. There is a very faint smell of incense, as well, and a very intense note of gingerbread  -  the Russian kind; a big, sweet, round gingerbread that is fragrant, tasty, with ginger, cardamom, and even an orange filling.
The aroma of gingerbread blends quite originally with the scents of lily and incense - I was luckier than the poor things that just got sweet plastic when Charogne was developing on their skin (there were quite a few of those, believe me!) Charogne can be worn quite easily, especially in the winter when the lily and the incense muffle the cozy gingerbread soul of the fragrance. But essentially... they fooled us; there is no roadkill or carcass whatsoever, as some pale-faced Goths might have hoped, and I had hoped along with them.
Demeter Fragrance could not bypass the topic of death in their Fragrance Library;  they have a perfume called Funeral Home. The majority of people in the U.S. see the dead for the first time in one of the rooms at those specially organized funeral homes, intended specifically for saying good-bye to the deceased.
Funeral Home smells like chrysanthemums, the stem and leaves included, gladioli and carnations, dead foliage, polished wood, and wet loosened soil. It brings to mind a combination of two of their other fragrances, Thunderstorm and Dirt, but with added floral notes. It is rather flat and frankly chemical, as are all Demeter fragrances, but at least the scent fits the name given to the perfume.
In 2013, Demeter Fragrance released two perfumes comprising their Zombie Collection. Zombie for Him smelled liked mushrooms, damp soil, wet stones and was quite tolerable or even pleasant to those who enjoy the scent of dirt and moisture. Zombie for Her had a cloyingly sweet note added to the damp soil and the mushrooms, and I simply could not stand that fragrance. In 2016 Zombie Dog was added to the collection, but I haven't had the chance to test it, and I can't say I regret it in the least.
***
Requiem for the Immortal by Scent by Alexis borrowed its name from the eponymous Ken Weaver painting where Mephisto is depicted in a very peculiar way… I would love to erase the painting from my memory, but not the fragrance - that one is for keeps.
It is an amazing combination of the sensual and the macabre. You get the aroma of tart wild honey, a hot scent of some beast, the thick smoke of myrrh and incense, burning candles, and melting beeswax. Immortelle flower notes are also present, but only its spicy sweetness, which is steeped in honey. And within that honey-spicy thickness you get a distinct sensation of gathering darkness!  But there is a thin fresh and light thread of a note: a flower note. The pyramid lists honeysuckle, but I sense lily-of-the-valley, with its delicate, sonorous, subtly corporeal, girly scent. Like a virgin brought as a sacrifice to Minotaur, who enters the darkness of its labyrinth and inhales the odor of the beast and the odor of death…
And yet, since the perfume is dedicated to an Immortal - and specifically to Mephisto - this virgin will be seduced by a fallen angel. I have to admit, the fragrance is not sophisticated enough and way too frankly animalic and sensual for Mephisto, the way I see him. There is no doubt that one must not only give up one's soul for such passion, but give up one's life, too: This passion literally burns you. And yet we do not know who will be burned this time - the virgin or the Immortal, since the Requiem is addressed to him.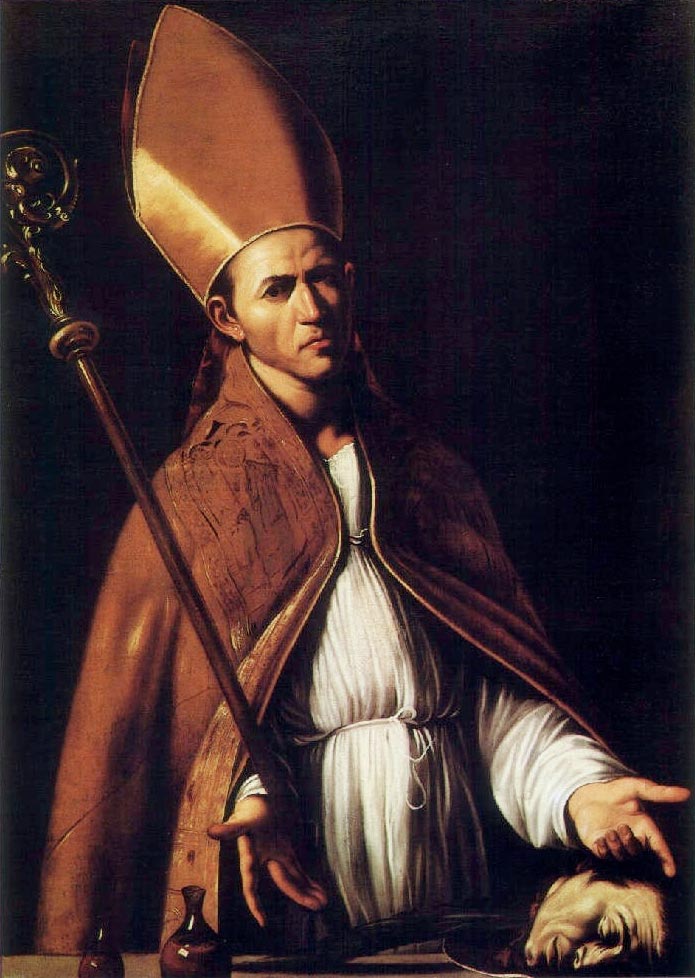 St. Gennaro of Napoli, Michelangelo Merisi da Caravaggio 
 
There is another perfume that one should try just because it is associated with myrrh-oozing relics and other fragrant holy miracles, so popular in the Middle Ages and in the Renaissance. I am talking about  Osang by Talismans Collezione Preziosa.
Stefania Squeglia's Osang was inspired by the Blood Miracle of St. Gennaro. People say that the bishop martyr's dried blood is stored in closed ampoule-like vessels in Napoli's Cathedral. Three times a year the relics are brought forth to the public and that very Miracle happens — the dried out blood is liquefied or even starts "bubbling." The miracle did not happen a few times and according to general belief, that signifies great misfortune ahead.
I tried the first version of Osang when it was brought by Squeglia to Moscow, and I have to admit that that I liked that version more than the current one - it was thick and sweet, a blend of ripe and sun-drenched pomegranates, raspberries, blackberries and dark grapes - with added church wine, myrrh, incense, and rose.
The current one has more mystery though: Osang smells like Italian churches with relics, i.e. incense, myrrh, and something else; all in all, a balsamic, resinous fragrance. The relics are certainly hidden inside reliquaries, yet they are still there in those cathedrals where they are kept under glass - you can see them and it smells differently than inside the cathedrals where saints are simply buried. Osang smells like frankincense and myrrh, candle wax and tart honey, plus some young large feline predator - the smell of its breath, its fur, the smell of Death and a voracious life.
Osang is sumptuous and complex, and, as I have noticed from the reviews and comments, it opens up differently on everyone. It is an old-fashioned chypre on some, a summer field of melliferous flowers on others, but it is dedicated to blood anyway. Dead blood.  But despite that, Osang is very sensual. Few were able to combine Love and Death in one perfume flacon so well.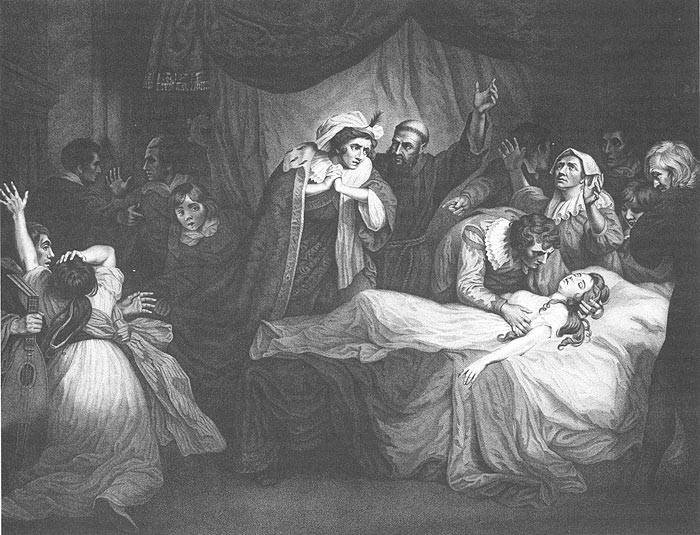 Romeo and Juliet (Act IV, scene V)

When it comes to my biggest disappointment, the greatest "disconnect" between a tragic name and a fragrance that does not suit it at all, it is  Ritorno Amaro by Giulietta Capuleti. Romeo, who is certain that Juliet is dead, returns in order to go down to the crypt and drink the poison after first saying good-bye to his dead lover.
 
 

Eyes, look your last!

Arms, take your last embrace! and, lips, O you

 
The doors of breath, seal with a righteous kiss
 
A dateless bargain to engrossing death!
 
Come, bitter conduct, come, unsavoury guide!
 
Thou desperate pilot, now at once run on
 
The dashing rocks thy sea-sick weary bark!
 
Here's to my love!

My favorite scene! And what did they do with it?
Ritorno Amaro smells like fruit and berries, sweet currants and frangipani flowers, mint and star anise, the Turkish drink Raki, whose presence gives a whole different meaning (rather merry than tragic) to the words "Here's to my Love!" It's more like a bar at a Turkish five star, all inclusive seaside resort…
No sorrow, no poison, just a banal fruity scent. Why could they not make something with frankincense or wet dirt or wilting flowers, if they had decided to make a fragrance dedicated to the finale of Romeo and Juliet? It could even be lily which is synonymous with death in the West, or anything but those life affirming sweet fruits and alcohol… However, the name works or, rather, people's imagination works, and some have tried to feel in this fragrance the sweetness of Romeo and Juliet's last kiss, the bitterness of the poison and the smell of incense. I guess they are the lucky ones.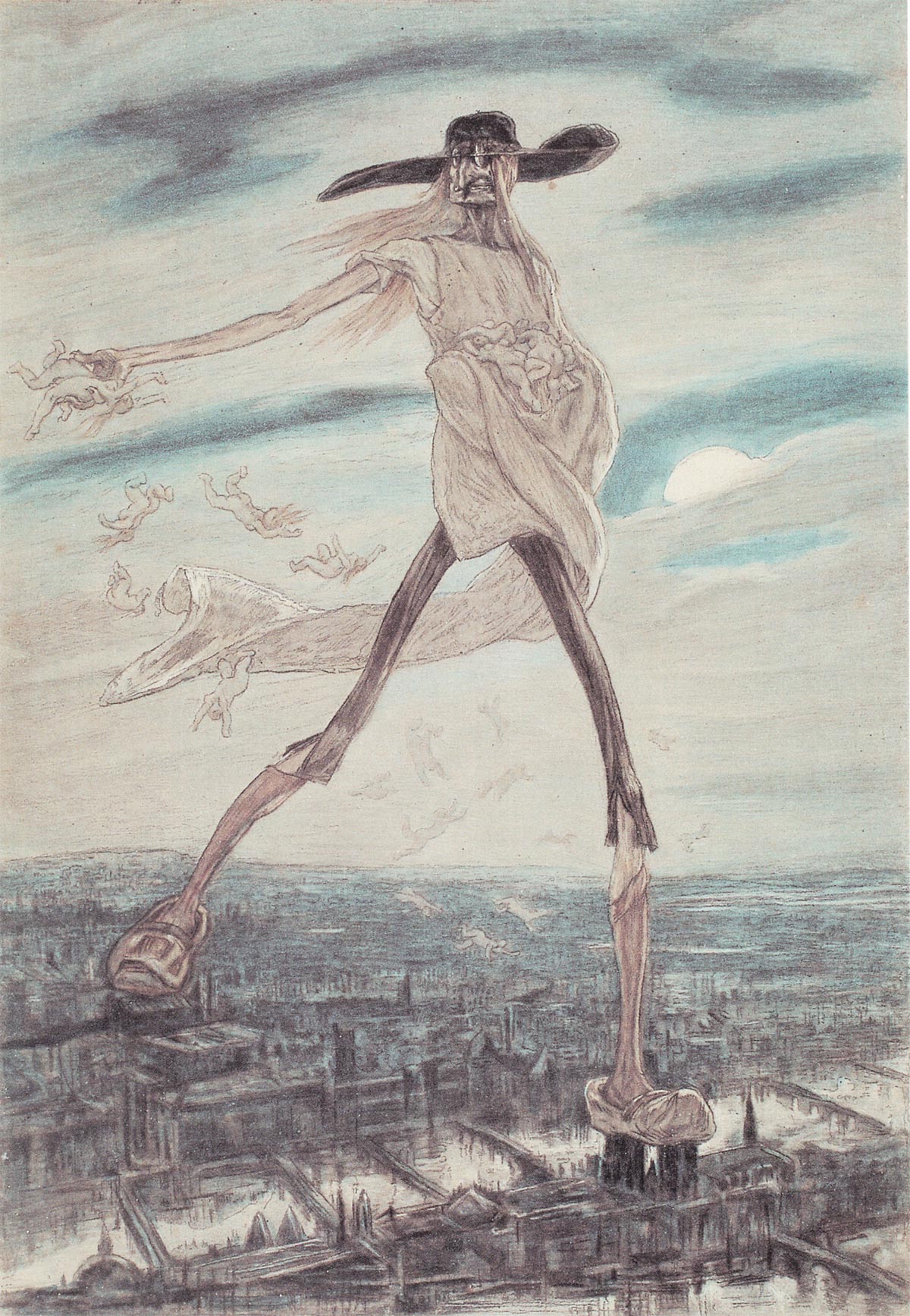 Les Sataniques, (1882) Félicien Rops

These days, we see dead bodies "prepped." Chilled and conserved. All of the natural decomposition processes are temporarily stopped for the sake of a proper good-bye to the deceased. This is good, convenient, but it gives rise to illusions.
Karina Dobrotvorskaya, movie critic, publisher, and public figure who now lives in Paris, wrote a memoir titled "Has Anybody Seen My Gal?" in which she reminisced on the 1990s. She started making decent money back then, and one of her friends from the movie business taught Karina to dress elegantly and choose the right perfumes.

"I was going then for trendy light fragrances with ozone-watermelon notes.
— Don't do that. Everybody uses those. Erotic perfumes must always smell a little like a corpse (!). Or be "smart."
She got me addicted to one of such "smart" fragrances - Knowing from Estee Lauder - for several years. I still like it."

I have a suspicion that Karina Dobrotvorskaya's friend liked to shock people, yet did not know what a corpse smelled like. The same is true for those who sense a cadaver-ishodor in some trendy sweet perfumes. All of these people have only read about "the sweet scent of decay." If they had ever experienced it, they would know that it has nothing erotic to it. However it is impossible to forget that odor. And most importantly, it is impossible for a perfume to smell like it.
B L I S S II M O has a splendid array of perfumes from
Liquides Imaginaires  which explore this mortal coil and themes of imagination, love, death and memory. 
Excerpt from FRAGRANTICA 
Author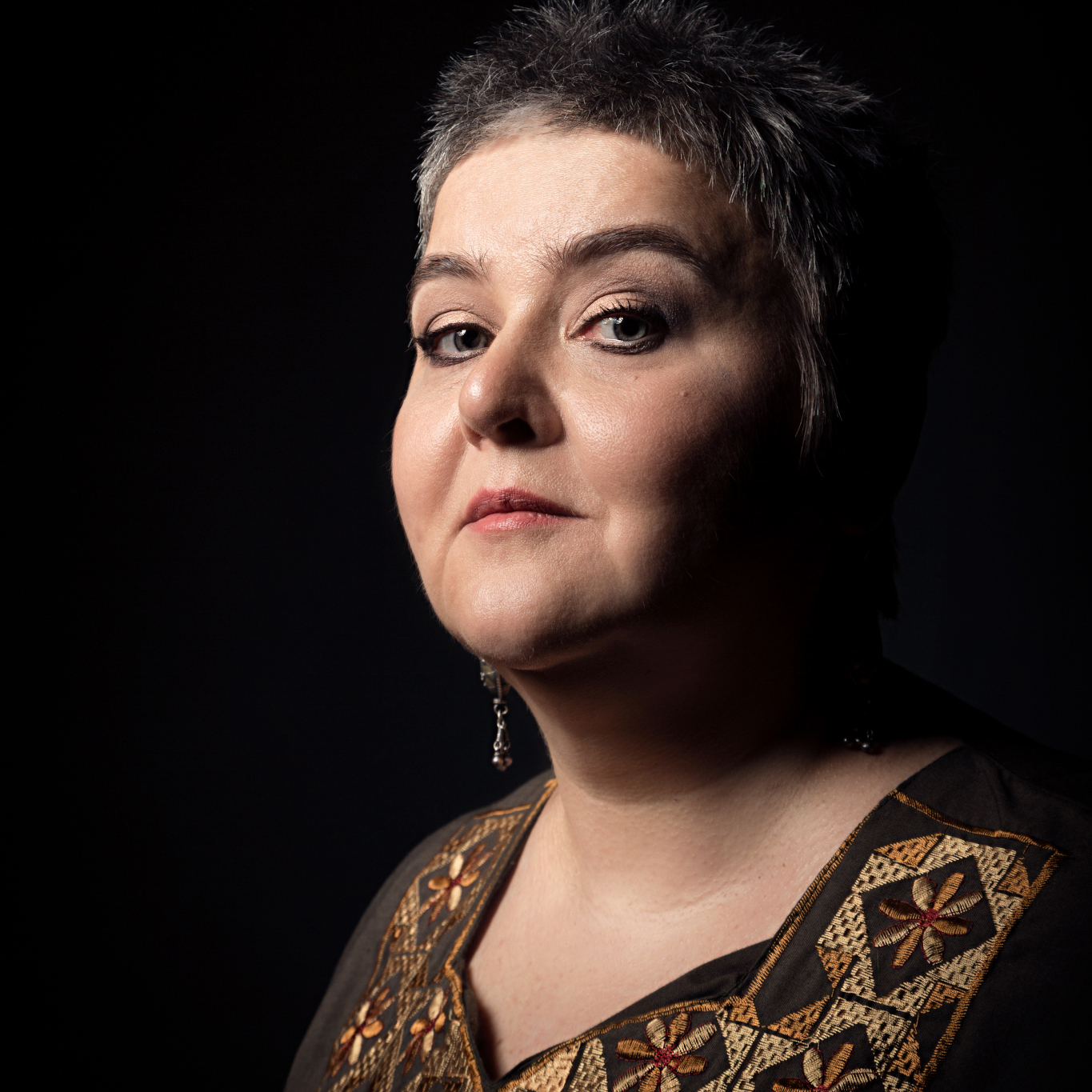 Elena was born in Moscow. She studied at the Gerasimov Institute of Cinematography and at the Philological faculty of Moscow State University. She is the author of several novels (some of those written under the pen name of Elena Klemm) and specializes in writing biographical books. She loves history, Gothic novels, tales of terror, ancient cemeteries and old maisons, St. Petersburg, Carcassonne, Blois, Siena, Toledo, and Cesky Krumlov. Her enamorment with perfumes dates back to her childhood, and now she has a profound collection of perfumes significant for her.